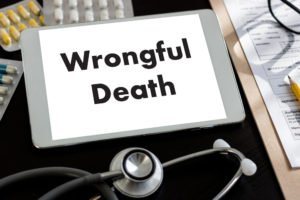 The untimely death of a family member is devastating, particularly if the death was the consequence of someone's recklessness, carelessness, or wrongful intention. As a family member, you might be able to recover financial awards on your loved one's behalf. A person or corporation could be held liable if it is proved that they are responsible for a person's death.
In Arizona, a Tucson wrongful death lawyer can help grieving family members seek justice for their loved one. Call Ben Crump Law, PLLC, at (800) 593-3443 today to schedule a free case review. Our team takes on tough cases and fights for the justice you deserve.
What Is a Wrongful Death Lawsuit?
A wrongful death claim is a civil lawsuit. If you win your case, the at-fault person will be responsible for paying out damages. Every situation is unique, so it could help to have a lawyer help you understand how this kind of legal action works. In general, wrongful death lawsuits involve:
An individual's death
A death that resulted from the at-fault party's carelessness or wrongful intention
Family members who have suffered monetary loss and experience pain and suffering
There are many possible scenarios in which a surviving family could sue the responsible party, including product defects, car accidents, manslaughter, murder, or medical malpractice. The deceased individual would likely have had the grounds for a personal injury lawsuit had they survived. Therefore, a wrongful death case can stand in as a personal injury case for the deceased as well as justice for the survivors.
For a free legal consultation with a wrongful death lawyer serving Tucson, call (800) 593-3443
What to Expect When Pursuing a Wrongful Death Case
If you are considering filing a wrongful death lawsuit, you may wonder how the process works. If you want to work with an attorney, the first step is setting up a consultation to meet with them to discuss your case. Next, should you hire an attorney, they will investigate your case to determine who is liable for your loved one's death. Your attorney is responsible for proving this, but you can support your case by providing them with all the information that you have.
After the situation leading up to the person's death receives a thorough examination, a demand letter can be sent to the liable party. This letter could lead to negotiations that result in a settlement agreement. Many cases settle at this point, but if a settlement agreement is not reached, your attorney could seek to take your case to civil court.
The time it takes for the process to resolve varies, so it helps to file your case in civil court sooner than later. The outcome could take up to a few months to a couple of years. Since the parties in wrongful death cases usually settle, your case might not take years to see completion.
If you are ready to start your wrongful death lawsuit, we are ready to help. Call a team member with Ben Crump Law, PLLC, today to schedule your free consultation.
Tucson Wrongful Death Lawyer Near Me (800) 593-3443
Wrongful Death Statutes in Arizona
Arizona allows the deceased individual's estate to pursue damages. According to Arizona Revised Statutes § 12-611, when an individual's death is due to the wrongful actions of another, that party is liable for damages to the entitled party. Additionally, Arizona Revised Statutes § 12-612 names the entitled party as the surviving husband or wife, child, parent or guardian, or personal representative.
Hiring a Tucson wrongful death lawyer personal injury attorney can help you to navigate the unfamiliar waters of the court system.
Click to contact our Tucson Personal Injury Lawyers today
Who Can File a Wrongful Death Lawsuit in Arizona, and Who Pays?
Even if a person's death has affected you significantly, such as the loss of your best friend or roommate, you are entitled to compensation only if you are a direct relative of the person who died. In Arizona, select relatives who have the right to file a claim typically are:
Parents or legal guardians of the deceased
The deceased's husband or wife
The deceased's children
A legal representative of the estate
The at-fault individual pays when they lose a wrongful death case. Many times, their insurance will cover the settlement, especially if it was a car accident or a death on their property. In instances of violence, such as murder cases, their insurance policy may not cover them. However, that does not mean a victim's family will not receive compensation.
Complete a Free Case Evaluation form now
Potential Awards in a Wrongful Death Case
Family members in wrongful death situations suffer direct financial losses and endure much pain and suffering. A lawsuit will not make anyone whole, but it can help relieve some of the monetary burdens. Compensation could cover expenses such as:
Funeral and burial costs
Medical bills
Lost wages/value of services that the deceased would have earned
Loss of inheritance
The significant emotional loss of love, care, and companionship that the deceased would have provided
Wrongful death cases can result in large compensation being awarded to the decedent's relatives. However, there is no average settlement amount to expect in these cases. Financial awards in wrongful death cases have a wide range of outcome possibilities, from minimal to substantial compensation.
Statute of Limitations for Wrongful Death Claim
Arizonians have a limited time to file a legal action in a wrongful death that took place in the state. Family members must file within two years of the deceased's death, per Arizona Revised Statutes (ARS) § 12-542. The deadline is called a statute of limitations.
If you miss the two-year deadline, you cannot file a lawsuit. On the other hand, claims against public entities or public employees have a shorter time frame. These claims should be filed within one year after the person's death. You can consult with your lawyer to determine the deadlines that apply to your case.
Work with a Tucson Wrongful Death Lawyer
When you lose a family member, there is so much to process. Filing a legal action might be the last thing on your mind. However, claiming the money you are entitled to can alleviate some of the financial impact.
Having a Tucson wrongful death lawyer work on your case can relieve some of the burden of seeking a wrongful death action by yourself. Having someone who cares and will fiercely fight on your behalf can cast a weight off your shoulders.
Ben Crump Law, PLLC, is prepared to fight for you, and you do not pay unless we win a financial award for you. Call to schedule your free consultation today at (800) 593-3443.
Call or text (800) 593-3443 or complete a Free Case Evaluation form