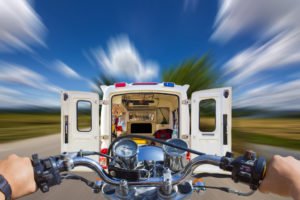 Riding a motorcycle can be exhilarating. Unfortunately, it can also be extremely dangerous. According to the Insurance Information Institute (III), nearly 5,200 motorcyclists died in crashes in 2017. Motorcyclists that year were also four times more likely than car occupants to die in crashes.
If you suffered injuries and property damage in a motorcycle crash, you might wonder what you should do in the days following a motorcycle accident. In fact, it is pivotal that you know the next steps to give you the best chance of recovering compensation.
Medical Treatment
Your first priority should always be your health. Even if you think you got lucky and escaped a crash with only a few bruises and some road rash, it is usually in your best interest to see a doctor right away after an accident. Some serious injuries, such as head and back injuries, may not appear until a few days later. A medical report that lists all your injuries and treatments, as well as any potential follow-ups, can serve as excellent evidence for recovering compensation later.
Collecting Evidence
Now is the time to get all your evidence in order, such as any photographs from the scene of the accident, police accident reports, and any medical reports and bills. If you have not already done so, you will also need to obtain insurance information for the at-fault driver. Finally, if there are any witnesses, collect their contact information and keep them together with all the other evidence in a safe place.
Contacting a Motorcycle Accident Lawyer
Contacting a lawyer as soon as possible after a motorcycle accident can protect you in several ways, even if your case does not end up in a court of law. A lawyer can calculate your damages correctly and negotiate with the at-fault party's insurance company on your behalf to try to achieve a fair settlement. If your case does go to court, your lawyer can work on all aspects of a personal injury claim and fight for your rights and compensation.
Our motorcycle accident lawyers might seek compensatory damages for material losses, your medical bills, loss of wages, physical and psychological therapy for post-crash recovery, pain and suffering, disability, loss of enjoyment for daily activities, and more.
Injuries in Motorcycle Accidents
According to the National Highway Traffic Safety Administration (NHTSA), a total of 4,985 motorcyclists died in accidents in 2018. However, even non-fatal accidents can cause permanent and disabling injuries to a motorcyclist. Because a motorcyclist does not have the same protection as a car driver who is in an enclosed vehicle, they can suffer from horrific injuries—even in a relatively minor accident.
Common injuries in motorcycle accidents include:
Traumatic brain injuries (TBIs) and other head injuries
Back injuries
Spinal cord injuries
Fractures
Internal injuries
Road rash
Serious head or spinal cord injuries can lead to permanent disabilities, which may make it impossible for a motorcycle accident victim to ever return to the kind of life they had before. They may also not be able to work or handle daily activities independently after a catastrophic injury.
Compensation Available for Motorcycle Accident Victims
What you do in the days following a motorcycle accident can be crucial for recovering compensation for your injuries and other damages. Consulting with a motorcycle accident lawyer can help you identify all your economic and non-economic damages, including:
Loss of income
Medical expenses
Costs for medical devices
Physical pain
Emotional distress
Disability
Disfigurement
Loss of life enjoyment
Costs of home help
You may also recover additional compensation depending on the severity of your injuries and the details of your motorcycle accident claim. In some cases, you could receive punitive damages in addition to compensation, if the court opts to punish a particularly reckless driver.
A Motorcycle Accident Lawyer Can Fight for You
In the days following a motorcycle accident, you will most likely be trying to heal from your injuries. However, taking the necessary steps to protect your interests is crucial. A motorcycle accident lawyer can help protect you in several ways, such as:
Offering Legal Advice
Your lawyer will assess your case and all legal options you might have. They can help you deal with insurance companies and file a personal injury case on your behalf.
Gathering Evidence
If you are still suffering from the effects of a horrific accident, your health is understandably at the forefront of your mind. Your lawyer can help with paperwork and collect the necessary evidence and documents needed for your case while you are recuperating.
Negotiating a Settlement
Calculating your damages and negotiating a fair settlement is often one of the most important ways that a lawyer can help with your case. If an out-of-court settlement is unlikely, your lawyer can represent you professionally in court and help fight for your rights.
For a free, no-obligation review of your motorcycle accident case, call Ben Crump Law, PLLC today at 800-959-1444.