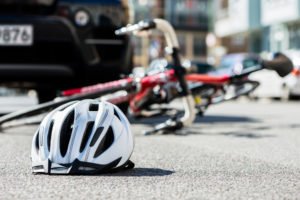 For thousands of Bakersfield residents, biking is more than a pastime. It's a way of life. While bikers used to ride at their own risk, a surge of biking popularity in the past decade has resulted in a number of statewide legal protections being afforded to bikers. As traffic, construction, and distracted driving see continual annual increases, collisions between motor vehicles and bicyclists have increased in turn.
If you or a loved one were injured in a bicycle accident, you might be entitled to hold the driver responsible for your losses. A Bakersfield bicycle accident lawyer at Ben Crump Law, PLLC, can review your case, advise you on your rights, and work with you to build a case. Call (800) 761-5225 to schedule a free consultation today.
Dealing with the Aftermath of Bike Accident
Despite the increase in state and federal regulations designed to protect cyclists from collisions with motor vehicles, biking is not without risks. The California Active Transportation Safety Information Pages (CATSIP) reported 745 of these accidents between 2015 and 2019 in Kern County—with 24 fatal collisions.
The majority of these collisions are the result of distracted driving, motorists failing to adhere to traffic laws, and a right of way not being extended to bikers when required. By the very nature of cycling, bikers are significantly less protected in a collision than a motor vehicle driver. Accordingly, injuries resulting from collisions between a motor vehicle and a bicycle tend to be extensive, costly, and life-altering.
Common Bike Accident Injuries:
Bruises
Lacerations and rashes
Bone fractures and breaks
Chronic injuries to the knees, feet, and back
Disfigurement and dismemberment
Wrongful death
A bike accident can transform your life in an instant. Everything can seem daunting and insurmountable. Thinking clearly while suddenly shouldering mounting medical bills, facing an inability to work, and battling emotional anguish can feel overwhelming.
Actions to Take After a Bike Accident:
See a doctor, even if your injuries aren't immediately visible. A doctor can diagnose injuries you may not be able to spot while providing critical paperwork for filing a claim.
Consult a lawyer to investigate, advise, and act as your advocate.
Resist the urge to accept any settlement offer extended to you. Allow an attorney to review the settlement offer to ensure it covers all of your losses.
A Bakersfield bicycle accident lawyer can help walk you through the next steps. After reviewing your case during a free consultation, a personal injury or wrongful death lawyer will interview eyewitnesses to document their account of the accident, compile police and insurance reports, handle all communication with insurance providers, and act as your advocate throughout the claim process.
For a free legal consultation with a bicycle accidents lawyer serving Bakersfield, call (800) 761-5225
Bicycle Accident Liability in Bakersfield
While laws governing registration and licensing for bikers vary from county to county in California, legal protections for cyclists are statewide and protect every cyclist on the road. These regulations are outlined in-depth in the California Vehicle Code (VEH) § 21200. At its core, this legislation mandates cyclists to adhere to the same traffic laws as motorists while simultaneously extending cyclists the same legal rights and protections that motorists enjoy.
California is an "at-fault" state. This means that liability depends on which party is responsible for the accident and the associated injuries or fatalities. Under this "at-fault" state legislation, the at-fault driver's insurance is generally responsible for compensating the injured party for damages—regardless of whether you as a biker were wearing a helmet or utilizing a designated bike lane.
Bakersfield Bicycle Accident Lawyer Near Me (800) 761-5225
Legal Counsel for Bakersfield Bike Accidents
If you've been injured in a bike accident or if you've lost a loved one in a tragic collision, you're not alone, and you have rights. A personal injury or wrongful death lawyer will understand the emotional turmoil you're experiencing and take over to act as your advocate so you can focus on healing physically and emotionally.
Damages You May Be Able to Claim:
Medical expenses (past, present, and future medical expenses that include doctor visits, medication costs, hospital visits, surgical costs, and more)
Lost income or lost earning capacity (past, present, and future discrepancies in your earning capacity directly resulting from physical or emotional injuries you've suffered in a collision)
Property damages (when applicable)
Rehabilitation (past, present, and future rehabilitation services needed to heal from accident-related injuries)
Costs related to emotional distress (including therapy, medication, and more)
Disability (Any permanent or semi-permanent disabilities you suffer from the accident)
Funeral and Burial Costs (including the cost of a burial plot, a proper funeral, and more)
Loss of Companionship (including a loss of inheritance and support if dependents of the victim are still alive)
California state's statute of limitations requires victims to bring forth a claim within two years from the accident. The time to act is now. Missing this window generally means forgoing your opportunity to fight for your rights and the financial compensation you may deserve.
While no amount of financial compensation can undo the physical and emotional damage you're experiencing, it can go a long way towards lessening the stress of overcoming obstacles and give you the peace of mind you need to be able to focus on healing.
Ben Crump Law, PLLC has been advocating for the rights of Bakersfield cyclists for years. Our legal team will work with you to ensure you're offered the best possible settlement. We work on a contingency fee basis and collect nothing until you win. Offering a free consultation, discussing your case with an attorney has never been easier. Call (800) 761-5225 to schedule a free consultation with a Bakersfield bicycle accident lawyer today.
Call or text (800) 761-5225 or complete a Free Case Evaluation form