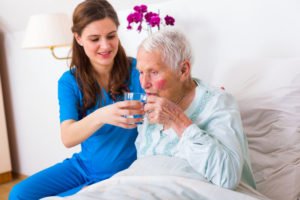 Not providing water with meals is considered nursing home neglect. According to the National Consumer Voice for Quality Long-Term Care, neglect is when nursing home staff fails to provide residents with the goods and services they need—like water. Neglect may or may not be intentional.
Generally, to prove that the nursing home was negligent, you must show four things:
The nursing home should have provided your loved one with water
The nursing home did not provide your loved one with water
They suffered injuries because they did not have water
Those injuries led to financial damages
The Mayo Clinic confirms that seniors are already at a heightened risk for dehydration, based on the naturally lower water volume in their bodies as they age. When nursing home staff neglects to provide seniors with water, for whatever reason, it can put them at a serious risk. Not only can residents in nursing homes become dehydrated, but some residents also have trouble swallowing. If they are not provided water with their meal, they could choke on their food.
Complications of Dehydration
If you believe your loved one is suffering from dehydration in a nursing home, watch for these signs and symptoms:
Not urinating enough
Complaining they are thirsty
Acting tired, dizzy, or confused
Dehydration can also cause serious complications, especially for elderly nursing home residents. These include:
Urinary tract infections
Losing consciousness, which can lead to fractures or head trauma
Kidney failure
Hypovolemic shock from low blood volume
When your loved one suffers from dehydration at the hands of a nursing home that endangers their health, you might be able to sue the nursing home for negligence.
For a free legal consultation, call 800-350-5777
Reasons for Nursing Home Neglect
Because nursing homes are often understaffed, the existing staff members can be overworked to the point of stress and exhaustion. In some cases, staff members might forget to keep residents properly hydrated. In other cases, the nursing home management might not have trained the staff members adequately. They might not know the signs of dehydration, or they might not care.
Your loved one's dehydration or choking incident might also be the result of abuse. When staff members withhold food or water intentionally, they typically do so in an attempt to control or punish the resident.
Whatever the reason is for your loved one's suffering, they deserve justice. As described by the AARP, the Nursing Home Reform Act was put into effect to ensure that nursing home residents receive quality care. All nursing home residents have a right to be free from abuse and neglect. If you believe your loved one suffered injuries in a nursing home, you might be entitled to compensation.
There are many courses of action that you can take. First, seek any immediate medical attention your loved one might need as a result of their dehydration. If you determine they are in an unsafe environment, move them to a safe facility as soon as possible. You can also report the nursing home to Adult Protective Services and seek legal advice from an attorney.
Contact Us for Legal Help
You do not have to go through the process of holding your loved one's nursing home accountable on your own. Ben Crump Law, PLLC is here to help with your case. We can investigate to determine if the nursing home was negligent by not providing water with meals and whether that negligence caused your loved one's injuries.
If so, you might be entitled to recover compensation for your losses associated with the nursing home's neglect. These can include:
Medical bills
Cost of relocating to another home
In-home care costs
Pain and suffering
Mental anguish
Loss of enjoyment of life
If we can prove that the nursing home was negligent, then we can pursue compensation for you. You do not have to worry about paying any upfront costs or fees because we work on a contingency-fee basis. This means we take our payment as a percentage of what we win for your case. You can focus on helping your loved one heal while we do the rest.
To get started, call the team at Ben Crump Law, PLLC today at 800-350-5777 for a free case evaluation.
Call or text 800-350-5777 or complete a Free Case Evaluation form